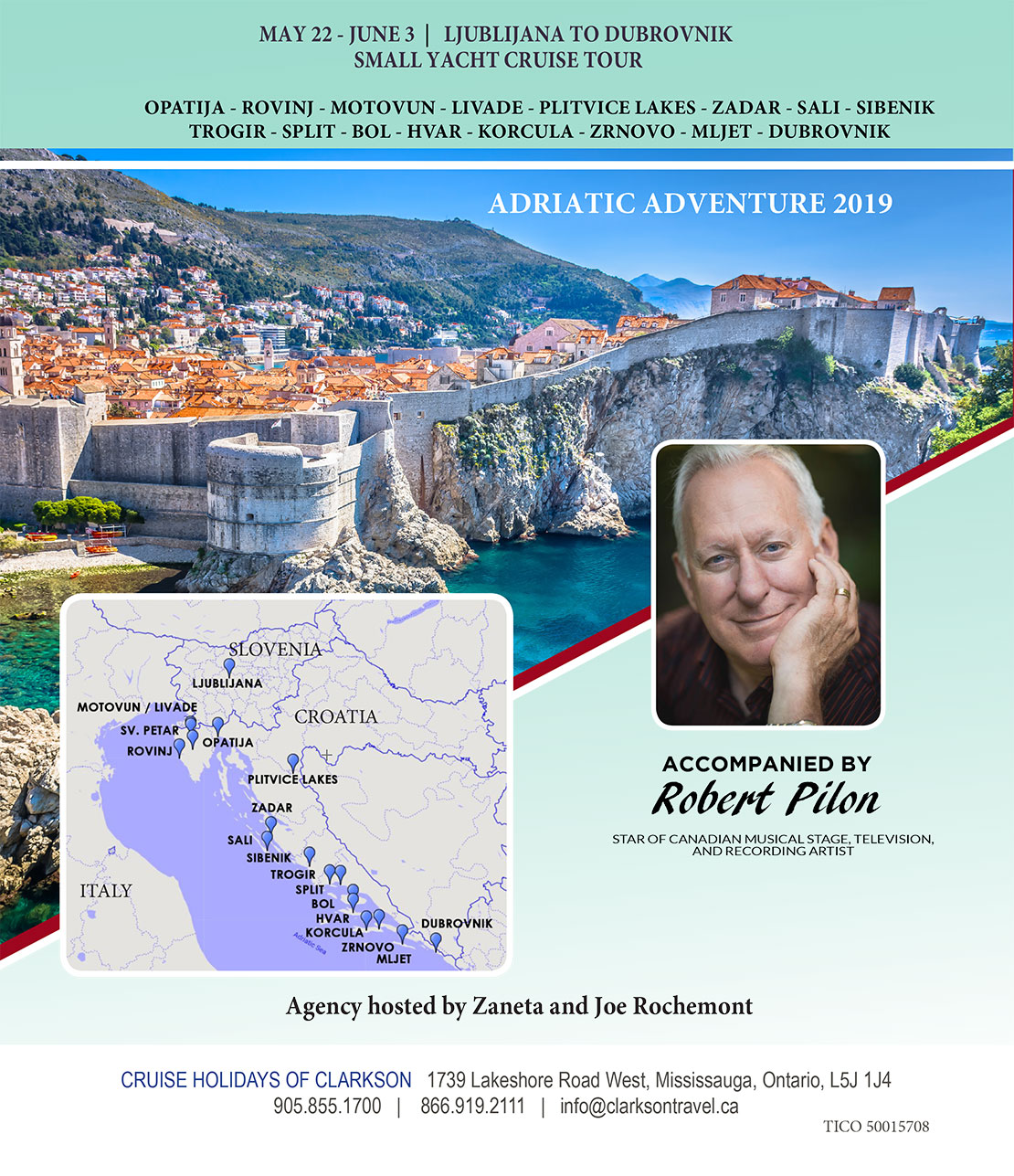 Book Now, Small 36 Guest Yacht Sells Out Fast:
• Complimentary Limo Transfer To Pearson Airport
• 3 Hotel Nights In Opatija + 7 Nights Cruise + 2 Hotel Nights In Dubrovnik
• Performances By Robert Pilon + Local Musicians

Adriatic Adventure 2019
May 22 - June 3
Ljublijana to Dubrovnik
With anticipation and excitement, we are thrilled to share with you our 2019 Adriatic programme. Each year we put together an assortment of carefully crafted tours and invite you to join us in our "To Travel Is To Understand" quest… Joining us this year is the vocally vibrant Robert Pilon, Canadian stage, television, and recording artist.
If your Mediterranean fantasies feature balmy days by sapphire waters in the shade of ancient walled towns, the Adriatic coast is the place to turn them into reality. Venetian palazzos snuggle up to Napoleonic forts, Roman columns protrude from early Slavic churches, and Viennese mansions face off with Socialist Realist sculpture.
Discover medieval towns, celebrated cities, and UNESCO World Heritage Sites on your journey through these enchanting countries. Local guides and historians unveil wondrous natural beauty and enriching histories. See the Roman ruins in Split, and Dubrovnik—crown jewel of Croatia and the Adriatic coast.
Join Robert Pilon and host Tracey Vickruck as they explore this magnificent region on our private charter of the MS Splendid, family owned and operated. This uniquely customized journey is only available to 36 guests and will sell out fast, please reserve early.
No matter what your 2019 travel plans are, we want to THANK YOU for being such a special part of our once-in-a lifetime journeys and we look forward to creating new lifetime memories with you…